Prior to using the BillingBuilder for billing processing, you must complete several setup steps, including configuration of the payers your agency bills to, as well as configuration of billing types, procedures, program billing groups, program billing information, and rates.
This diagram illustrates the relationship between some of the billing setup components, each of which will be discussed in more detail in this portion of Online Help.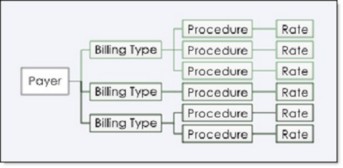 Required Permissions

The BillingBuilder and its setup components are available to users with the following permissions:
Display Executive Administration Buttons - OR - Display Fiscal Buttons (only required if you are not a member of the "Fiscal Staff" or "Executive Officer" user groups)

NOTE: Permissions are assigned using the Permissions Maintenance feature. If you do not have access to that feature and need a permission listed here, please contact your supervisor or your local Help Desk for assistance.
Click-by-Click Instructions

Configuring Fiscal Periods - Learn to create a fiscal period step-by-step.
Configuring Payers - Learn to enter the payers from which your programs receive payments.
Configuring Billing Types - Learn to create billing types for each payer.
Configuring Procedures - Learn to create procedures for each billing type and specify requirements.
Configuring Program Billing Groups - Learn to create groups of programs using like billing.
Configuring Program Billing Info - Learn to enter program-specific data required for claims invoices.
Configuring Billing Rates - Learn to specify billing rates for each procedure for each program/group.
Using the Billing Procedures ReportBuilder - Learn how to generate a custom report of billing procedure configuration information.
Frequently Asked Questions

BillingBuilder Setup Frequently Asked Questions
Related Documents

Insurance Authorizations - Instruction Sheet
https://demodb.footholdtechnology.com/help/?11130