The Bed Registry Report is a built-in report used to monitor current and open housing units for agency residential programs by county.

NOTE: The Bed Registry Report is an optional AWARDS feature. If you do not presently have it turned on in your AWARDS database and would like to request it, please download the Various Optional Enhancements Request Form, complete the "Bed Registry Report" portion, and then return the form to [email protected].
To view a read-only bed registry report from within the Reports module, complete the following steps:
From the navigation bar, click

Reports

(or the

Reports icon

). The

Reports

index is displayed.


NOTE: This report does not require a program selection on this page, and it bypasses all program chart access permissions, for the purposes of allowing users to see if other agency programs have bed vacancies.
If you previously bookmarked the

Bed Registry Report

it is displayed on the reports index by default; otherwise, from the left-hand menu bar, click

All

under "Show Reports."

Use the navigation features in the bottom-right corner to locate the

Bed Registry Report

in the index, or enter "bed registry" in the

Search

field in the upper-right corner.

Click

Bed Registry Report

from the reports index.

The

Bed Registry Settings

page is displayed.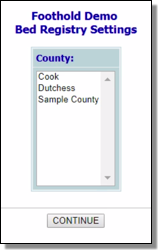 From the county selection list on this page, choose which counties should appear in the report. To select more than one, press

<Ctrl>

and click each individual county.

NOTE: The counties listed here are based on those indicated for programs using the System Setup module, Agency Program Information, Add/Edit Entire Program feature.
Click

CONTINUE

. The report is displayed on the

Beg Registry

page.
When reviewing the contents of this report, keep in mind the following:

The report lists all housing programs in the counties selected in step 5. Each program's report data includes the program type, population served, capacity units, and the total number of current and open beds, as of the date the report is being run.

NOTE: Program access permissions are bypassed for this report. As a result, it shows you the full list of applicable programs regardless of whether you have chart access to them, allowing you to see if other programs currently have bed vacancies.

"Capacity Units" is based on the actual number of units entered for the selected program, as set up under System Setup > Residence Units (excluding any overflow units).

To the left of each listed program is an arrow icon. Click that arrow to view the program's director, address, and phone number (as entered in System Setup).

Click the heading of any report column to sort the report contents by that data variable.
The process of viewing a bed registry report is now complete.
https://demodb.footholdtechnology.com/help/?10321