AWARDS is in use at hundreds of agencies around the country. As a result of this wide-spread adoption, and in response to demand for a deeper understanding of AWARDS and software implementation, Foothold has developed an expert-level training program, called AWARDS Certification.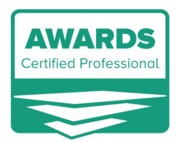 Complete implementation and utilization of AWARDS requires well-trained personnel to train, assist, and support staff as they enter and work with client information in your database. AWARDS Certification courses are offered in order to give users an expert level of understanding of the software, and ensure a working knowledge of the planning and coordination aspects of project management and implementation.
AWARDS Certification is a credential given to people who satisfy a set of requirements, including attending training sessions and passing both qualifying and post-course exams and will distinguish them as an AWARDS expert.
The Certification curriculum is a rigorous, three-level training program for agencies aiming to turn staff members into true AWARDS experts. These experts can then provide invaluable support to all AWARDS users within the agency.
Basic Courses are offered each fall, Intermediate Courses in the winter, and Master Courses in the spring. Registration and access to the Qualifying Exam occur in the summer. There is no cost for the qualifying exam, and no obligation to enroll in Certification if you take the exam.
A Closer Look @ Certification


For more information on the Certification structure, click here.

For a course grid of required classes, click here.

To see course descriptions of each class, click here.
FootholdConnect Event Recordings

Certification: Becoming an AWARDS Encyclopedia - A User's Conference Continued Session, 2017 (1 hr 2 min)
Are you an advanced user of AWARDS? Do you want to become a certified AWARDS expert? If so, this is the session for you! In this session, you're going to get a taste for Certification - see how to qualify for the course, learn what to expect in the courses, and get a refresher on some of the recent big enhancements.
Certification Course Fees

| | |
| --- | --- |
| Length | Cost |
| Level 1 - Basic - 3 days | $1000 |
| Level 2 - Intermediate - 3 days | $1000 |
| Level 3 - Master - 3 days | $1500 |
Contact Us

For a current schedule of courses or any other questions about the AWARDS Certification program, please contact our Training department at: [email protected].
https://demodb.footholdtechnology.com/help/?11987