To view a read-only employee absence report, complete the following steps:

TIP: The following instructions detail accessing the Absences Report directly within the Attendance feature. This report is also available in the AWARDS Reports module, where it can be bookmarked for easy access. For more information on using the Reports module, click here.
Click

your name

from the navigation bar, and then click

Attendance

. The

Attendance Menu

page is displayed.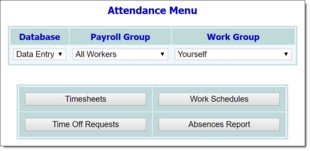 Click the

Database

drop-down arrow and select "Reports."

Click

Absences Report

. The

Employee Absences Report

page is displayed.

Click the

Employee

drop-down arrow and select the employee or group of employees for whom the report is to be viewed. The available selections in this drop-down list are based on your level of authority in the system; for example, direct care staff can only view the report for themselves, supervisors can choose to view the report for one or all of their supervisees, and members of the "Executive Officer" and "Human Resources" user groups are able to select from all employees.

TIP: If the report to be run is for a former employee, first click the Staff Archives checkbox.
In the

Start Date

field, type the date beginning from which information is to be included in the report (using mm/dd/yyyy format).

In the

End Date

field, type the date through which information is to be included in the report (using mm/dd/yyyy format).

Click the

Sort By

drop-down arrow and make a selection to indicate how report results should be sorted in the event that an "All" selection was chosen in step 4. Available options are "Employee," "Absence Date," and "Absence Type."

Click

ABSENCES REPORT

. The report is displayed on the

Absences Report

page.

The contents of this read-only report are broken into a table that includes columns for the following information:


TIP: In addition to documenting actual absences and approved time off, this report includes information on any pending or denied time off requests. When pending and denied requests are found, the days out information for those requests is listed as "0."

TIP: When the report is run for a single employee, accrual balances information is also included at the bottom of the report page.
Click any of the column headings on the table to change the report's sort order. An arrow icon is displayed next to the column on which the content is currently sorted.
To export the absence report information to Microsoft Excel for further review and analysis, click the Excel File link at the bottom of the report page. A PHI Download Alert is displayed, reminding you of your obligation to properly handle any confidential data and/or protected health information (PHI) within the download in accordance with related government regulations and agency policies. After reading the alert, click OK to acknowledge it and proceed with the export, or Cancel to return to the previous page.
The process of viewing an employee absences report is now complete.
https://demodb.footholdtechnology.com/help/?10040