A sortable read-only report that includes basic incident details is available from within the AWARDS Reports module. To view this report, complete the following steps:

NOTE: Users with the Restrict Incident View data entry/access permission, assigned under Permissions Maintenance, do NOT have access to this report.
From the navigation bar, click

Reports

(or the

Reports icon

). The

Reports

index page is displayed.

Click the

Program

drop-down arrow and select the program or group of programs for which the report is to be viewed.

If you previously bookmarked the

Incident Report

it is displayed on the reports index by default; otherwise, from the left-hand menu bar, click

All

under "Show Reports."

Use the navigation features in the bottom-right corner of the reports index to locate the

Incident Report

, or enter "Incident" in the

Search

field in the upper-right corner.

Click

Incident Report

from the reports index.

The

Incident Report Setting

page is displayed.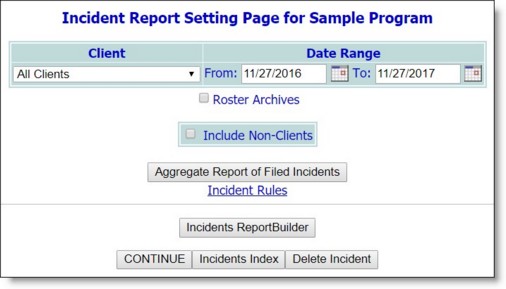 To limit report selection to those reports that include a specific client as a participant, click the

Client

drop-down arrow and select the client in question. The default value is "All Clients."

TIP: If the client for whom the report is to be run is a former (discharged) client, first click Roster Archives beneath the Client selection option.
By default, only those incidents that took place within the last year are available for viewing. If necessary, make changes to that default date range by adjusting the values in the

From

and

To

fields as necessary (using mm/dd/yyyy format).

If report selection is to include those reports for incidents in which non-clients were participants, click the

Include

Non-Clients

checkbox.

Click

CONTINUE

. The

Incident Reports

page is displayed.

TIP: If you have the "Incident Review Data Entry" permission you can view an aggregate report of filed incidents at this time instead of the full incident report. To do so, click Aggregate Report of Filed Incidents instead of CONTINUE.
The report page contains a list of those incident reports meeting the report settings entered on the previous page, and the following information is provided for each incident listed: client, incident date and ID, reporter, date reported, type of incident, and location.

NOTE: Locked/filed incidents are only included in the incidents report for users with the "Incident Review Data Entry" permission. All other users see open (unlocked) incident records only.
Click the heading of any report column to sort the report contents by that variable. To limit which columns are displayed, click the column display icon in the upper left-hand corner of the report and pick and choose which columns of information should be included.
To view the report for a specific incident, click any of the links for that incident. The selected report is then displayed and contains the initial Incident Report Form, as well as the Incident Follow-up (Review) when applicable.
The process of viewing a basic incidents report is now complete.
https://demodb.footholdtechnology.com/help/?10432