To enter program attendance, complete the following steps from the AWARDS Home screen:
Click the

Program

drop-down arrow in the upper-right corner of the page and select the day program for which program attendance is to be entered.

Click

Charts

from the left-hand menu, and then click

Reception Desk

. The Reception Desk fly-out menu is displayed.

Click

Program Attendance

. The

Reception Desk Data Entry

page is displayed.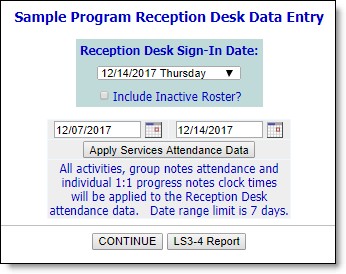 Click the

Reception Desk Sign-In Date

drop-down arrow and select the date for which the program attendance is to be entered.

If the program attendance to be entered is to include consumers whose attendance has lapsed for 90 days or more, click the

Include Inactive Roster?

checkbox.

To apply to any existing program attendance information data from all activities, group notes attendance, and individual face to face progress notes clock times, click

Apply Services Attendance Data

and then click your browser's

Back

button to return to the

Reception Desk Data Entry

page.

TIP: In order to use this feature the date range in the Start Date and End Date fields can be no more than seven days.

NOTE: Apply Services Attendance Data is an optional feature. If it is not turned on in your database and you are interested in learning more about it, please contact your Foothold Customer Success & Advocacy team representative. They will be able to provide guidance on whether or not this functionality is right for your agency.
Click

CONTINUE

. The

Reception Desk Data Entry

page is displayed.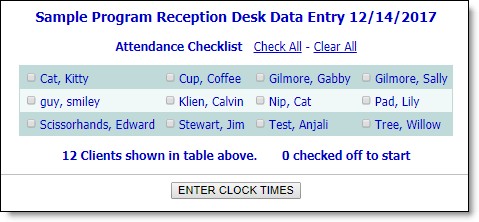 Click the

Attendance Checklist

checkbox next to each consumer, and/or pending consumer, who visited the selected program on the selected date.

NOTE: In programs using the multi-step intake process, this checklist includes pending consumers - those for whom intake has been processed but who have not yet been admitted - but those pending individuals are not noted as such as they are elsewhere in AWARDS.

TIP: To select all consumers in the attendance checklist, click the Check All link. To clear all selected consumers, click Clear All.
Click

ENTER CLOCK TIMES

. The

Reception Desk Data Entry

clock times page is displayed.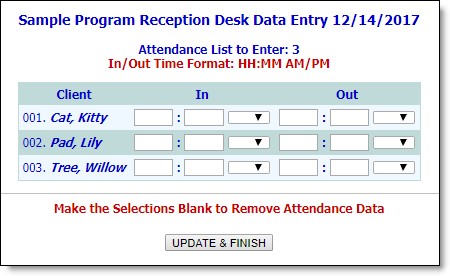 In the

In

and

Out

fields, type in and out times for each consumer to indicate when each visit began and ended (using HH:MM AM/PM format).

TIP: If a consumer visited more than once on a single day, continue with step 11, then repeat the steps outlined in this section. A second set of in/out fields for his or her "return visit" is available once the reception desk record has been saved for the first time.
Click

UPDATE & FINISH

. The program attendance information is saved and a read-only report version of the information is displayed on the

Reception Desk Report

page.

TIP: To make changes to the program attendance at this time, click DATA ENTRY to return to the Reception Desk Data Entry page.
The process of entering program attendance is now complete.
https://demodb.footholdtechnology.com/help/?10288