Any user with access to the Operations module can create a new ticket using the ResourceTracker. To do so, complete the following steps from the AWARDS Home screen:

IMPORTANT! Ticket forms are highly configurable; as a result, labels mentioned in the instructions below may vary from those in AWARDS.
Click

Administration

from the left-hand menu, and then click

Operations

. The Operations fly-out menu is displayed.

Click

Trackers

, and then click

ResourceTracker

(which will have a label specific to your agency). The

Search Criteria

page is displayed for users with the ability to respond to tickets, or for all users if it has been configured to do so.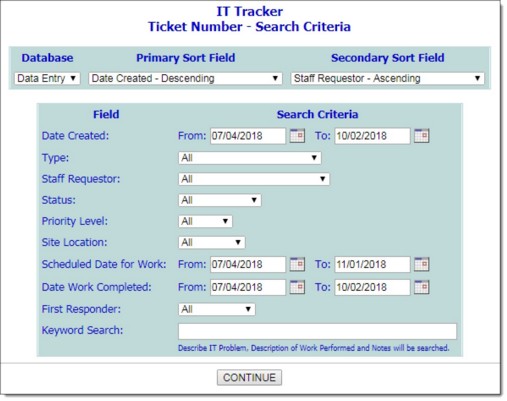 If you are taken to this Search Criteria page, continue with step 3. Otherwise, you are taken to the Data Entry Index page and should continue with step 5.
Click the

Database

drop-down arrow and select "Data Entry."

Click

CONTINUE

. The

Data Entry Index

page is displayed.

Click the

Select

checkbox next to "Create New."

Click

CONTINUE

The

Data Entry

page is displayed.

The fields and options on the

Data Entry

page vary based on how the ResourceTracker is configured, and on the type of resource being tracked. Enter ticket information using the available fields and options as necessary, and then continue with step

8

.

TIP: Fields and options marked with red asterisks (*) are required, and any conditional components of the requirements are noted in red text next to the asterisks.
The basic fields and options included on this form are as follows, though some may not be available for data entry based on user access and configuration settings:
| | |
| --- | --- |
| Brief Description of Work Requested | Work Category |
| Status | Priority |
| Requesting Site / Location | Scheduled Work Date |
| Date Work Completed | Responder and Additional Responder |
| Material Cost | Labor Hours |
| Description of Work Performed | Notes |

TIP: If a Requesting Site/Location is selected from the corresponding drop-down list, and text is also entered into the adjacent field, only the text entered in the field is retained when the ticket is saved. The purpose of the field is to allow users to enter a location not included on the drop-down list.
Click

CONTINUE

. The ticket information is saved and the

Data Entry Index

page is displayed, including the newly created ticket.

NOTE: At this time a system generated message for the ticket is sent to the requestor and users with the ResourceTracker Messages internal audit message permission.
The process of creating a new ticket is now complete.
https://demodb.footholdtechnology.com/help/?11517