To perform a census search using the Client Search tool, complete the following steps:
From the navigation bar, click in the

Client Search

box (or click the

Search icon

). The

Advanced Search

window is displayed.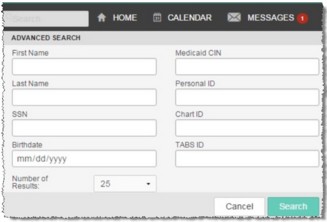 Enter search criteria in one or more of the client identifier fields in this window. These fields may include:
| | | | | |
| --- | --- | --- | --- | --- |
| SSN | First Name | Last Name | Birthdate | Personal ID |
| Medicaid CIN | AWARDS ID | Chart ID | TABS ID | AWARDS UUID |
Click the

Number of Results

drop-down arrow and select the number of matches that should be displayed in the search results.

Click

Search

. All agency program records are searched for the identifying information entered, and the search results are displayed on the

Client Search Results

page.

This page contains a list of clients for whom all or part of the identifying information entered on the previous page is a match.

TIP: By default client search results are sorted alphabetically by client last name. If needed, click a column heading to sort by the data in that column instead. Clicking a column heading a second time reverses the sort order.

TIP: On this page, the status of each client is listed next to his or her identifying information, and is a useful reference for determining which programs a client has been admitted or referred to.

TIP: Users are encouraged to complete a census search prior to entering new records as part of the intake/admission process. In order to aid in that process, users with the "Referrals Data Entry" and "Display Chart Records Intake" button permissions see an Intake/Admission Menu button at the bottom of the search results page. This button takes users directly to the Intake/Admission module.
Click the name link of the client being searched for.

NOTE: Clients in those programs for which the user does not have chart access are NOT available for selection.
If the selected client has NOT yet been admitted to an agency program, his or her referral record is displayed. If the client HAS been admitted to an agency program, the

Client Information

page is displayed for him or her.
From this page, key components of the client's chart records can be centrally accessed, including entitlements, employment and hospitalization records, face sheet, progress notes and contacts log, service plans, and charting timetable events.
The process of performing a census search is now complete.
https://demodb.footholdtechnology.com/help/?10131